As result of thirty years of tribal conflict and famine in Karamojaland, the women have taken the initiative, and started an alternative method of survival.
Full length film:
Film length: 30min – Audio: Karamojong – Subtitles: English,Czech,Swahili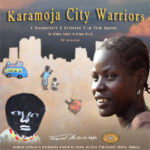 Festival screenings
Culture Unplugged Humanity Explored Online Festival www.cultureunplugged.com
Amakula Caravan Film Festival, Uganda, 2012 www.amakula.com
Dokubazaar Documentary Film Festival, Ljubljana, 2011 www.lidff.blogspot.com
Lola Kenya Screen International Childrens Film Festival, Nairobe, 2011, (Karamoja Faces) www.lolakenyascreen.org
Bukedde TV Uganda, 2010. "A quirky film about a real situation that the public in Kampala see on the streets everyday."
Baby International Film Festival, Kampala, 2010. "Admirable and beautiful – I love the use of animation".
---
Development use
The film Karamoja Faces has been dubbed into Dutch for schools in Holland to help understand the difficulties African children face.
Salamander Trust has included it in an educational publication for schools across Uganda:
http://www.salamandertrust.net
IOM (International Organisation for Migration) has shown the film on large outdoor blow-up screens across Karamojaland!
UNICEF are utilising the film for its specific target of helping the street children in Kampala.
Other NGO's who have shown the film include OXFAM, Save the Children, C&D, DED, and a number of local Ugandan NGO's.
To buy a DVD of the film (free for educational purposes) please email me simoncbird@hotmail.com
In Uganda contact Karamoja Development forum (KDF): www.facebook.com/groups/karamojadevelopmentforum or email: karamojadf@gmail.com
---
Film Synopsis
As a result of 30 years of tribal conflict and famine, the women of Karamojaland have started to traffic children to the city for begging in order to survive. Described by the City Council of Kampala as the 'Karamoja Phenomenon', the Government of Uganda and UNICEF estimates up to 2500 Karamojong are on the streets – of which 90% are women with small children.
The film follows the story of Lucia with her children in Kampala, and their return to Karamojaland. We talk to the City Council in Kampala, the MP for central Karamojaland, elders from the village and let the women who are trafficking the children justify themselves.
The children have their say in the form of an animated story, which runs parallel to the real-life film. Animated pictures and story boards were created by Karamojong children from Kisenyi Ghetto, Kampala.
---
Read the article about the Karamojong phenomenon I wrote for the MP of Central Karamojaland, which was the precursor to the making of this film: Removing the Karamojong
---
Karamoja Faces
This is an educational short film for children ages 5 to 13, created from the animated sections of Karamoja City Warriors.
Film length: 16min / Audio: Karamojong,English,Luganda/ Subtitles: English,Swahili
To buy a DVD of the film (free for educational purposes) please email me simoncbird@hotmail.com
In Uganda please contact KDF (Karamoja Development forum): www.facebook.com/groups/karamojadevelopmentforum/ or email: karamojadf@gmail.com
---
About the film making:
The whole project was designed to cost as little as possible, to demonstrate that film and animation can be an affordable method of communication for minority tribes. We realised it was not necessary to shoot in HD or widescreen, as our target audience in East Africa mostly have the old style (4:3) television sets.
Despite initial reticence towards filming, the Karamojong of Kisenyi Ghetto quickly realised the film would help to raise their profile, and dispel the idea they are a backward tribe.
We found the main character after two weeks of research. Her name was Lucia, and I saw that she was perfect for the documentary, because she had never been to the city, but could express herself freely and with confidence. She was twenty years old, and had borrowed two children from another family to beg on the street, despite this, however, she seemed to be a typical, honest and caring mother.
For the animation, we made sure the camera had a stop-motion facility, as this would give the street children the chance to see instant results from their work. By organising painting workshops under a shelter in the ghetto we could let the children express themselves more easily than with straight interviews. Then, by simply cutting the pictures out and moving them bit by bit, we could assemble the animation without too much technical difficulty. Most of the animation was created from rubbish found in the ghetto.
---
Here are a few production photos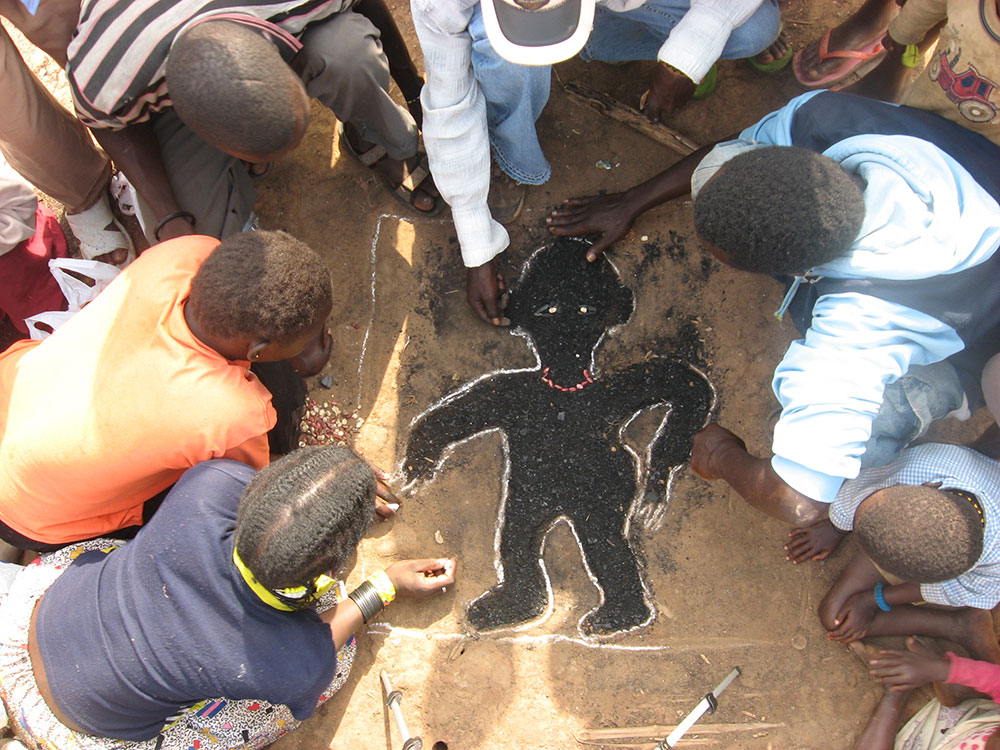 Bringing the warrior to life in the Ghetto.
---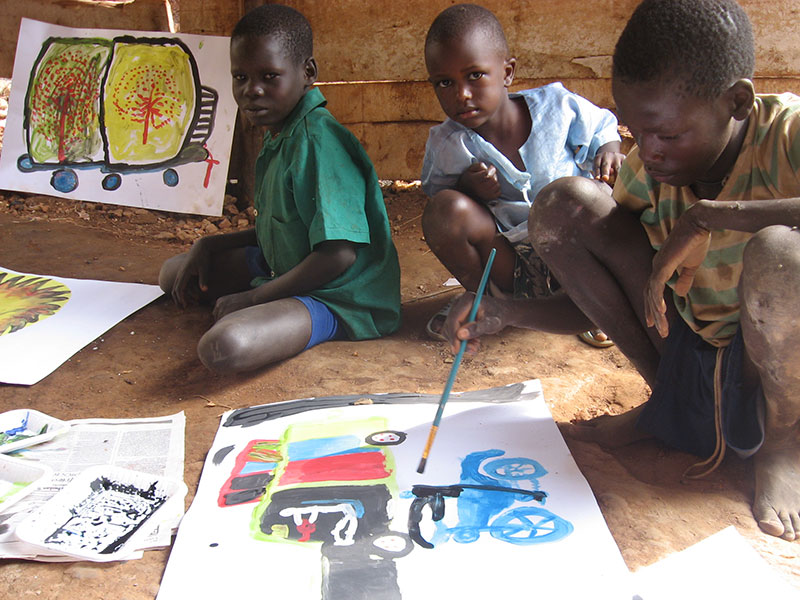 Painting the pictures for the animated street scenes.
---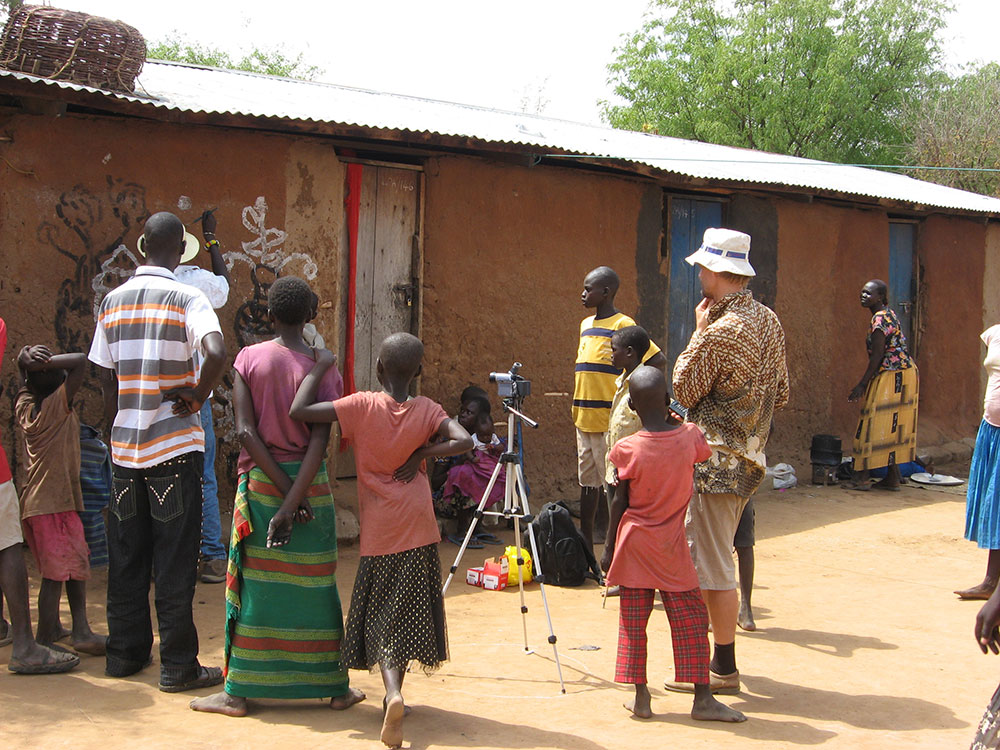 Wall painting animating in Karamojaland.
---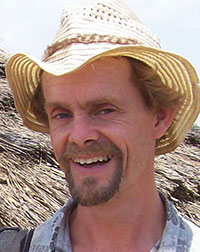 Director / Editor: Simon Bird
Simon is a painter, writer, and film maker, who specializes in working with minority tribes. He uses art as a means to address social issues, and lets the local people tell their own stories. He has worked with the Karamojong for three years, setting up arts based development programs, holding craft workshops and conducting research.
---
Assistant director: Simon Lokai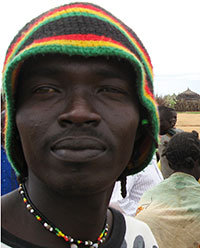 Simon Lokai has lived in Kisenyi Ghetto for seven years, and has worked for two of those with the NGO Dwelling Places, and three with Simon Bird as assistant film maker. In 2007 he started a business initiative called Karamoja Design, employing the street women to make traditional Karamojong jewellery instead of taking their children to beg. Mr Lokai is also a talented singer/song writer, and all the sound tracks for the animation are from his first album Da Forgotten Warriors – promoting peace and unity in Karamojaland.
He is now stationed in Turkana, Kenya.
Contact: https://www.facebook.com/simon.lokaimoe.3
---